Publishing with a purpose
About the journal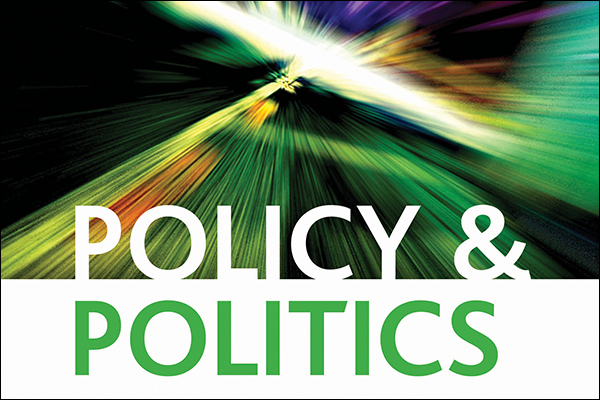 Policy & Politics is a world-leading journal that is committed to advancing our understanding of the dynamics of policy-making and implementation. By exploring the interplay between political actors, governing institutions and policy issues, the journal contributes to theories of the policy process. By reflecting on the evolving context in which these interactions occur, it provides critical insights that are timely and fresh.

Policy & Politics has an international reputation in the fields of political science, public administration and social policy. It is committed to publishing articles that are original and innovative; that engage with the world's most pressing policy issues; and that have relevance both within and beyond academe. The journal welcomes manuscripts that are empirical, conceptual or theoretical, as long as the broader international relevance of the argument is explicit.

It is critical that all articles demonstrate a clear contribution to knowledge, and it is crucial that articles are explicit about the specific empirical and/or theoretical advance that it offers. One of the hallmarks of the journal is the manner in which its articles generally shift from the micro to the macro (or vice versa) by addressing the link between 'policy' and 'politics'. For example, while single-case studies might form the basis of an article, the broader significance and relevance of that study must be made explicit. Where articles deal with broad macro-political or economic issues they may also drill-down to some discussion of the micro-level implications of that analysis. Successful articles will generally demonstrate both analytical breadth and depth in the coverage of their subject matter. Articles must be written in a clear and accessible style suitable for a multi-disciplinary and global audience.

Policy & Politics welcomes manuscripts that contribute to its reputation as a platform for state-of-the-art research. The editors are especially interested in articles that:

1. Challenge dominant disciplinary assumptions.
2. Open up new research frontiers, and by doing so, set the agenda for subsequent debates.
3. Innovate in the use of methods, theories and concepts in order to deliver new insights.
4. Make connections across and between disciplines and sub-fields.
5. Offer relevant and timely analyses of emerging debates within political science, public management and administration, and social policy and from a comparative perspective.


What people are saying about Policy & Politics
"The specific quality of Policy & Politics is that it provides high quality articles that recognize the interrelatedness between the complexities related to getting things done in public policy making and the inherently political aspects of this endeavour."
Professor Eva Sørensen, Roskilde University
"From its origins in British local government and urban studies to today's broad vistas, Policy & Politics has grown into an established international journal of high repute".
Professor R. A. W. Rhodes, University of Southampton
"Policy & Politics brings into focus two subjects that should be studied together. It provides a platform for informed, reflective and rigorously evidenced research and does so in a way that addresses issues that matter."
Gerry Stoker, Professor University of Southampton, UK and Centenary Research Professor, University of Canberra, Australia
"For too long researchers have studied and published on policy and politics separately, but policy is always political and politics is fundamentally about changing policy. Policy & Politics understands this relationship and is the leading journal for those academics that want to understand what is happening and why."
Danny Dorling, Halford Mackinder Professor of Geography, University of Oxford



Policy Press also publishes the New perspectives in policy and politics series.