Generation Share
The Change-Makers Building the Sharing Economy
Published
Jun 17, 2019
Page count
304 pages
ISBN
978-1447350101
Dimensions
235 x 260 mm
Imprint
Policy Press
Generation Share eBook collection
To celebrate Global Sharing Week 2020, you can now purchase each themed chapter individually.

The complete ebook is also available for the first time, as a PDF which you can buy for just £20.00.

Generation Share, features 200 stories of the change-makers building a caring, sharing economy, and was recently cited as a top isolation read for a positive future by Forbes.

Each copy sold will help support Aarti Naik's Sakhi School for slum-based girls in India and specifically her emergency Covid-19 Digital School and Food Drive for slum-based girls and their families. We're also working with the Eden Reforestation Project to plant a tree for every copy sold.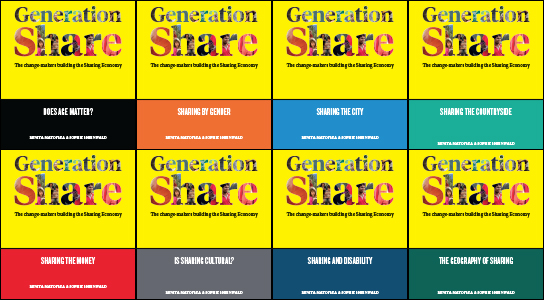 Generation Share takes readers on a journey around the globe to meet the people who are changing and saving lives by building a Sharing Economy. Through stunning photography, social commentary and interviews with 200 change-makers, Generation Share showcases extraordinary stories demonstrating the power of Sharing. From the woman transforming the lives of slum girls in India, to the UK entrepreneur who has started a food sharing revolution; you'll discover the creators of a life-saving human milk bank, a trust cafe and a fashion library who are changing the world.
A collaboration between speaker, social innovator and global Sharing Economy expert Benita Matofska and photographer Sophie Sheinwald, Generation Share brings to life the phenomenon causing the most significant shift in society since the Industrial Revolution.
"This new book is a celebration of the sharing economy, and there are three things that make it particularly impressive... First, it focuses specifically on the people... (Secondly) It's full of wonderful photographs that land this abstract idea of a sharing economy in real situations, contexts and needs... (Third) Everyone gets a voice here, and the book is packed with inspiring but ordinary people explaining their motivations for doing what they do..." The Earthbound Report
"We have a saying in my house: 'Dream big and anything is possible'. The extraordinary people in this book aren't just dreaming but doing - against the odds to make their community and the world a better place. Illuminating, humbling and awe-inspiring." Samantha Simmonds, TV news presenter and journalist
"A must read for change makers everywhere who seek lasting, systemic change with multiple benefits. This timely, inspirational read shows through tangible examples how sharing can bring people together, meet basic needs, and reduce waste. Nothing could be more relevant given the mounting social, economic, and environmental crises." Neal Gorenflo, Co-founder and Executive Director of Shareable and Executive editor, Sharing Cities: Activating the Urban Commons
"A glorious and glossy, around-the-world look at the global sharing economy from the viewpoints of a diverse and inspiring group of young change makers. Printed on sustainable paper, a percentage of each copy sold helps fund planting a tree and educating a slum girl in India. It educates, motivates and even agitates individuals and corporations into joining the sharing community in a beautiful way. Buy it. Read it. Love it. Share it." DJ Paulette
"In a world filled with "stuff" this inspirational book showcases how we can share knowledge, skills and resources for the benefit of all. " Oliver Heath, designer
"If we're serious about living within the means of our life-giving planet, a sharing economy will be absolutely essential. This is a hopeful and inspiring book setting out positive ways forward." Caroline Lucas, MP for Brighton Pavilion
"A marvellous and inspiring celebration of sharing across the world and across generations, written by one of the most knowledgeable and passionate authorities in the field. The stories gathered by the author are diverse, magical and heart-warming." Patrick Andrews, social innovation lawyer
"We all need inspiration and this book provides that much-needed shot in the arm to inspire and challenge. Buy it and share!" Lindsay Boswell, Chief Executive, FareShare
"If the vicious global pursuit of conspicuous consumption makes you despair, read Benita's book for some hope." Mark Williams, Actor
"An indispensable guide to sharing, not just the facts, stats and intellect that underpin the concept but also the joy, passion and connection that will make it so crucial to our future." Mike Barry, Director of Sustainable Business, Marks and Spencer
"Sharing is an essential part of social investment; this book helps us understand how." Christine Gent, director of Fashion Revolution and People Tree, WFTO Fair Trade Expert
"If the sharing economy is our future, then this book will take us there. Hope it can be shared and read globally to inspire, delight and push the agenda forward" Livia Firth, Founder and Creative Director, Eco-Age
Benita Matofska is an international public speaker, change-maker and world-leading expert on the Sharing Economy. An award-winning social entrepreneur, she created the charity The People Who Share and Global Sharing Week. Through social innovation, Benita helps organisations adapt to the digital age and features regularly in the media worldwide.
Sophie Sheinwald is a photographer who focuses on brand photography and helping entrepreneurs create an authentic visual story. Her background is in fine arts, visual studies and public art. She has exhibited her work in galleries across the UK, held art and photography workshops and community-focused projects in healthcare environments.
Introduction: What is the Sharing Economy?;
Chapter 1: DOES AGE MATTER?;
Chapter 2: SHARING BY GENDER;
Chapter 3: SHARING THE CITY;
Chapter 4: SHARING THE COUNTRYSIDE;
Chapter 5: SHARING THE MONEY;
Chapter 6: IS SHARING CULTURAL?;
Chapter 7: SHARING AND DISABILITY;
Chapter 8: THE GEOGRAPHY OF SHARING;
Conclusion;
The Photographer and The Author;
Thanks for Sharing!.