Publishing with a purpose
Welcome to our Social Policy Association conference virtual stand
The Social Policy Association conference is currently underway.
As part of this online conference, we have created this virtual space so that we can connect with everyone we would have at the physical event. We are also offering you 50% off a selection of our latest books. See details below.


Anniversary Celebrations: 25 years of publishing with a purpose

This year we are celebrating 25 years since Policy Press was established and 5 years since the creation of Bristol University Press.
Please enjoy reading this special anniversary brochure which celebrates our story and vision, and find out more on our anniversary website pages.
We have created a special Anniversary Collection including six of our bestselling Social and Public Policy books. Click here for a chance to win the collection.
"Shortly after finishing my PhD, Bristol University Press/Policy Press approached me about publishing my first monograph. As an early career researcher, it was great to work with such a friendly and supportive team!"
Daniel Edmiston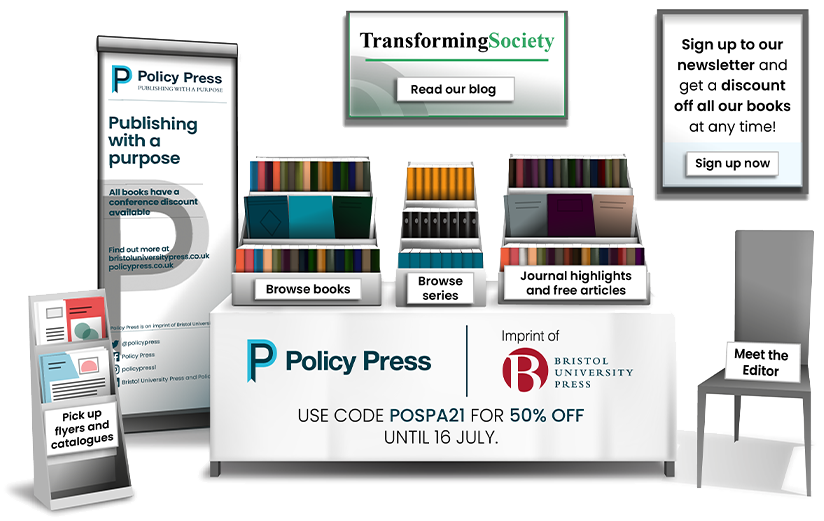 "I was, I gather, author of the first book to be published by Policy Press in 1995; and I subsequently published a second in 2005. The Policy Press staff were in both cases remarkable in the care they took over the production, their marketing and publicity and their support for me as author. Along with their journals, they have developed an unrivalled niche for social policy publications in the UK market and internationally."
Graham Room
"Working with Policy Press to develop a monograph based upon my PhD research has been a rewarding, constructive and enjoyable experience, I would highly recommend them as a supportive and encouraging publisher to work with."
Maddy Power