Publishing with a purpose
Welcome to our ARNOVA Asia Conference virtual stand
We have created this virtual space so that we can connect with everyone we would have met there.


Anniversary Celebrations: 25 years of publishing with a purpose

This year we are celebrating 25 years since Policy Press was established and 5 years since the creation of Bristol University Press.
Please enjoy reading this special anniversary brochure which celebrates our story and vision, and find out more on our anniversary website pages.


---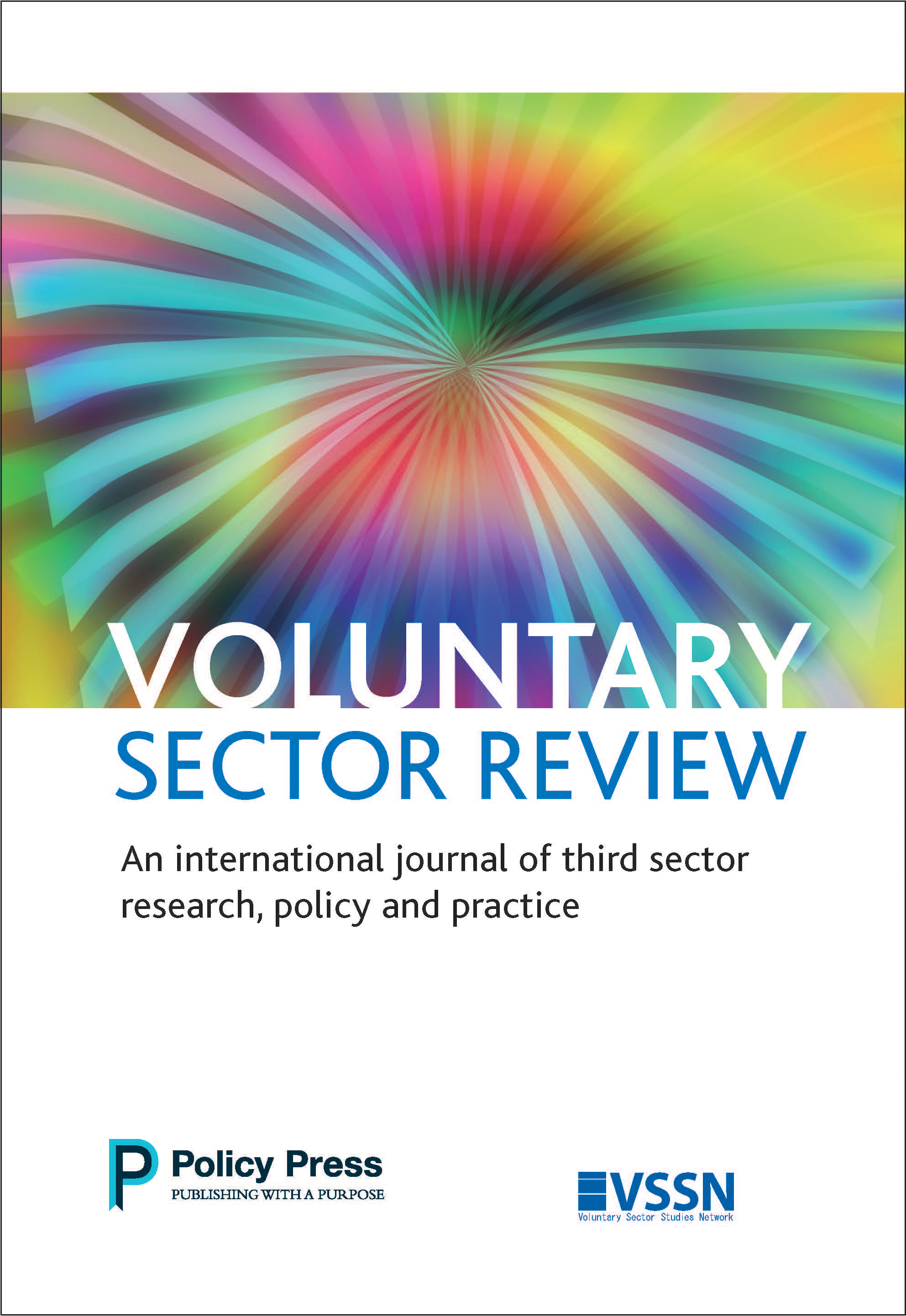 Voluntary Sector Review
Voluntary Sector Review (VSR) is published by Policy Press in association with the Voluntary Sector Studies Network (VSSN). It publishes accessible, high-quality peer-reviewed papers on all aspects of the voluntary, community, civil society and third sectors.
A unique feature of the VSR is the combination of papers aimed at academic, policy and practice audiences. This is designed to ensure that the results of the latest academic research are made available to the widest possible audience and are grounded in a close engagement with both policy and practical issues.
Watch this message from Carl Milofsky, Co-Editor:
---
Submit your article
VSR is an explicitly interdisciplinary and international journal - the first to be European based. We welcome contributions from authors from all disciplines and all countries.
The scope of submissions includes, but is not limited to, such topics as the origins and nature of volunteering, the experiences of user groups, social activism, social movements, philanthropy, the growth and performance of charitable foundations, community organisations, social enterprises, and the relationship between voluntary organisations and the state.
Contact the Editors, Daiga Kamerāde, Carl Milofsky or James Rees to discuss your article. Further information is available about the Journal's aims and scope.
---
VSR summer reading list
Enjoy free access to 15 recent articles from VSR until 31 July. The summer reading list includes:
The 'resilience' of community organisations during the COVID-19 pandemic: absorptive, adaptive and transformational capacity during a crisis response
Chris Dayson et al.
Third sector housing in 21st-century Hong Kong: opportunities and challenges
Betty Yung and Alex Chan
Party membership and charitable giving in China: the mediating role of resources, networks, prosocial values and making compulsory donations
Yongzheng Yang and Pamala Wiepking
'Never more needed' yet never more stretched: reflections on the role of the voluntary sector during the COVID-19 pandemic
Harriet Thiery et al.
Migrant integration services and coping with the digital divide: challenges and opportunities of the COVID-19 pandemic
Caitlin McMullin
'Uncertainty is the only certainty': how pragmatic sociology provides a useful theoretical framework for researching the third sector during COVID-19
Janis Petzinger, Tobias Jung, and Kevin Orr
Shared leadership in voluntary sector organisations: exploring practice and theory development
Henry Mumbi and Demola Obembe
Accountability in non-profit health care organisations: towards building online practices
Asya Cooley
Essential, complex and multi-form: the local leadership of civil society from an Anglo-Italian perspective
Michela Pagani, Alessandro Sancino, and Leslie Budd
The role of collaborative housing initiatives in public value co-creation ‐ a case study of Freiburg, Germany
Lisa Dang and Ann-Kathrin Seemann
The relationship between state funding and volunteer levels in voluntary sector organisations: a quantitative analysis of regulatory data
Christopher Damm
Voluntary 'organic' leadership for community resilience
Benjamin J. Lough
Shoots and leaves: exploring the impacts and fragile sustainability of sustainable place-making projects working with marginalised people
Sam Ramsden
Assembling community energy democracies
Bregje van Veelen and Will Eadson


---
More free articles
You might also enjoy the Editors' Choice collection (free until 31 July) and the free sample issue Volume 10, Number 2, July 2019 (free until 31 December 2021).


---
Subscriptions
If you enjoyed the free articles, please recommend the Voluntary Sector Review to your librarian. Ask them to subscribe or sign up for a free trial.
ARNOVA members can get a discounted personal print subscription from just £43.00. To take advantage of this offer, please contact custserv@turpin-distribution.com quoting the journal and your membership number.
| | | | |
| --- | --- | --- | --- |
| | GBP | EUR | USD |
| UK and Europe | £ 43.00 | € 54.00 | |
| Rest of the World | £ 54.00 | | $83.00 |
---

You may also be interested in


Global Social Challenges Journal: Non-profit, open access publishing for change
Bristol University Press is delighted to announce the call for papers for its first fully open access journal.
How can we re-imagine society in an era of climate change, pandemic, hunger, poverty and other pressing global societal challenges? Significant threats and dangers lie ahead of us, but so do opportunities. Global Social Challenges Journal, fully open access and not for profit, aims to facilitate thinking about these positive new trajectories and become the journal of choice to address the complexities of global social challenges across disciplines.     
Want to know more? Read our call for papers, and join the journal mailing list for the latest news.   




Evidence & Policy
Read the special issue: The many faces of disability in evidence for policy and practice.
You may particularly enjoy this article:
Evidence, objectivity and welfare reform: a qualitative study of disability benefit assessments
Tom Porter, Charlotte Pearson, and Nick Watson